Offre étudiant - Découvrez le meilleur de Back to School avec Student Beans - DÉCOUVRIR

POLO RALPH LAUREN - Bénéficiez d'un accès en avant-première pendant 24 heures - DÉCOUVRIR

MY ELEMENT - LIVRAISON ET RETOURS GRATUITS POUR LES MEMBRES - NOUS REJOINDRE
Ibrahim Meïté Sikely
Ibrahim Meïté Sikely
Influenced by his surroundings and cultural heritage from the outskirts of Paris to the Ivory Coast by way of the port city of Marseille, Ibrahim Meïté Sikely has risen from being just another kid in the neighborhood to one of the most impressive young artists coming out of France right now. We were fortunate to visit Ibrahim at the ARTAGON structure in Marseille where he is an artist in residence. We were welcomed in to shoot for our new apparel line, talk art, influence, life and the vibrancy of his home on the shores of the Mediterranean. His style is truly a sum of his life experiences from encountering famous footballers at his family's hair salon, his fascination with Manga, countless hours studying in Parisian museums and of course…music. We at Element are honoured to highlight one of the brightest talents in visual art today as a part of our Spring/Summer 22 launch. To go along with his interview, Ibrahim has curated an adjoining playlist to enjoy a full sensory experience that gives you a raw insight into his influence and creative process. Enjoy the interview, the music and be sure to check some of the styles that Ibrahim is showcasing here.
Who are you and where are you from?
My name is Ibrahim Meïté Sikely, I'm 25 years old and I'm a painter. I was born in Marseille and grew up between Pantin (93) and Champigny sur Marne (94) (In the north of France). I have been living in the south of France for the past five years. Currently, I'm a student at La Villa Arson, the school of fine arts in Nice and also an artist in residence at the Artagon structure in Marseille.
What is it like being an artist in Marseille?
It's quite soothing, we can allow ourselves to take the time it takes for each thing. There, I find the tranquility and the warmth that I needed as an artist, I am also close to my roots. It is here in Marseille that everything began for me, it is where I made my first drawings, where I lived my first joys, loves and losses. I was able to grow as an adult here, review certain priorities, have my routines and build myself a discipline.
Does the city inspires you?
Yes, a lot. I already have a special history with this city, given that it's the city which welcomed one of my uncles to become a football player at Olympique de Marseille. After this, all my family from Ivory Coast came to Marseille. Lots of pieces of my life story are still here. My family is known in the local Ivorian community. I remember my aunt's hair salon, where football players like Didier Drogba, Djibril Cissé went to get their hair done. Next door, I had another uncle who ran a Maki (Ivorian restaurant).
Now I also have my own community that I have evolved in this city and more broadly in the south. Friends like artists Neïla Czermak Ichti, Lounseny Soumah, Lassana Sarre and Iscia Gonzales. Marseille is my "planet Namek". As long as there's the sea and the family, that's fine with me.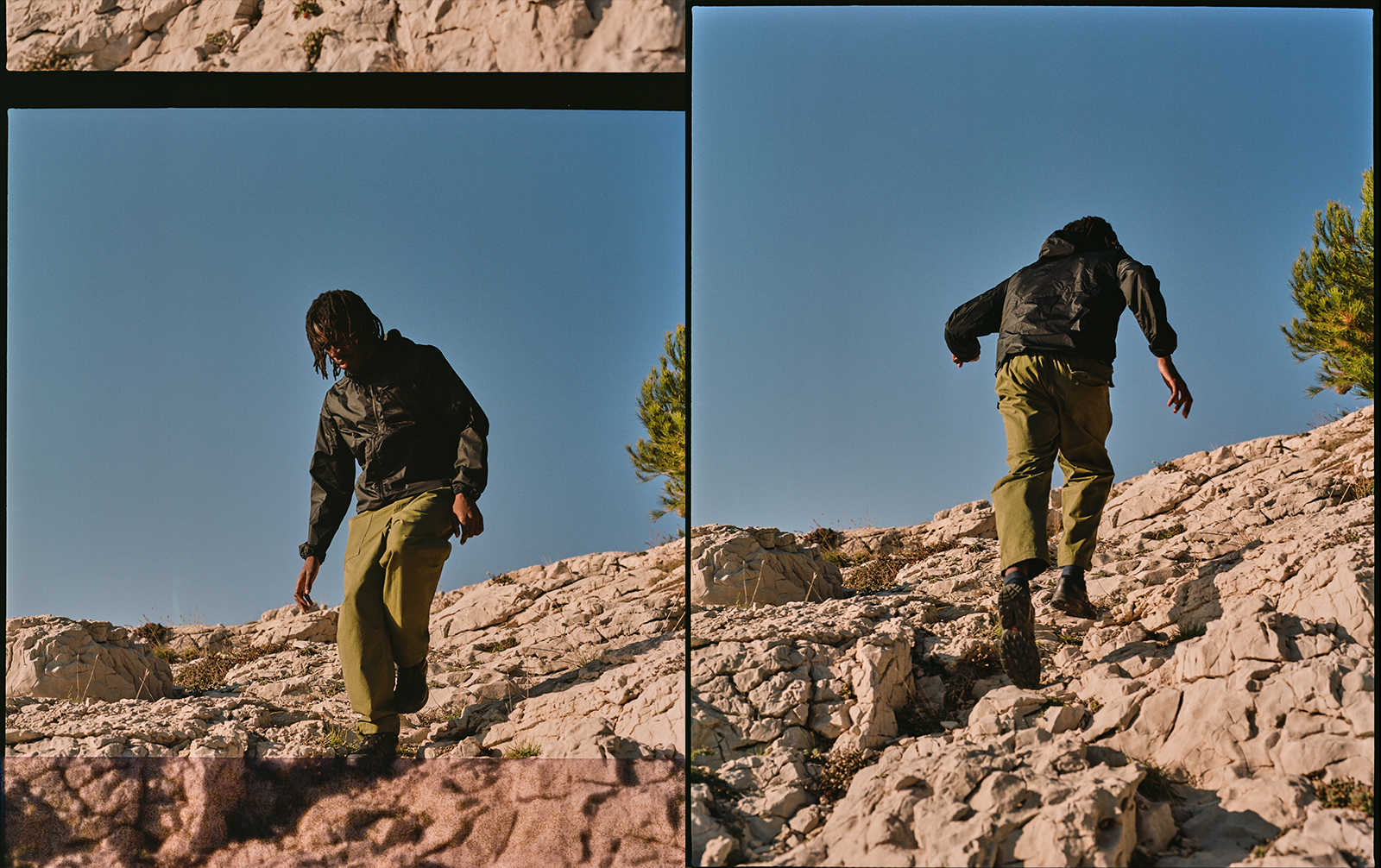 How long have you been creating art?
At school, I was the weird guy who drew Dragon Ball Z stuff in the back of the classroom. At the time, I was failing at school, My career plan was to have as much impact as Akira Toriyama by developing my imagination as much as I could. So from the age of 12, I was writing and trying to transform my ideas into images. I knew I wanted to be an artist, I just didn't know which way to go.
Does art run in the family?
I made my first drawings with my cousin while watching mangas that were shown on TV, that was my first openness to art. Also, my mother is very passionate about painting. Moreover, we always had plenty of printed reproductions of impressionist paintings at home. I think that's how my fascination for this medium was born at that time. Otherwise, I am rather surrounded by footballers.
What made you decide to follow this path to take you art career more seriously?
When I was younger I had to force too many doors to take this path, I was coming from a tough neighborhood and one of the worst colleges in the department. Teachers and guidance counselors didn't have time for my plans. I had rage, I was hungry, so I had to optimize my skills. I had to draw a lot, download a lot of movies, spend a lot of time at the Louvre and the Orsay Museum and borrow a lot of books from my neighborhood library.
So, after this long road of fighting against the social determinism that overhung me, I entered the Fine Arts. I didn't even know that this kind of school was free in France! I was finally able to officially study arts without constraints. I rediscovered painting and this time as a painter, I became (way) too passionate about it. My priority when I came back to Paris was to go to the Louvre and the Orsay Museum in order to confront myself with the history and symbolism behind the works of the greatest artists such as Théodore Géricault, Eugène Delacroix, Gustave Courbet, Gustave Doré, etc... Then, with my contemporaries I discovered the work of artists such as Noah Davis, Janiva Ellis, Mohamed Bourouissa, Lynette Yiadom- Boakaye, Kery James Marshall, Denis Forkas Kostromitin and Henry Taylor. It blew my mind, thanks to these artists I was finally able to breathe and rise, I started to feel too free. There were so many ways to create and conceive images, to say things. There were no more limits, it was the road to infinity.
Therefore, I gave myself fully to each project I was working on because I knew that the work would bear fruit. To tell the truth, I was lucky enough to see the results very quickly and my involvement has remained extremely sincere. I had to believe in myself because back then no one was going to do it for me.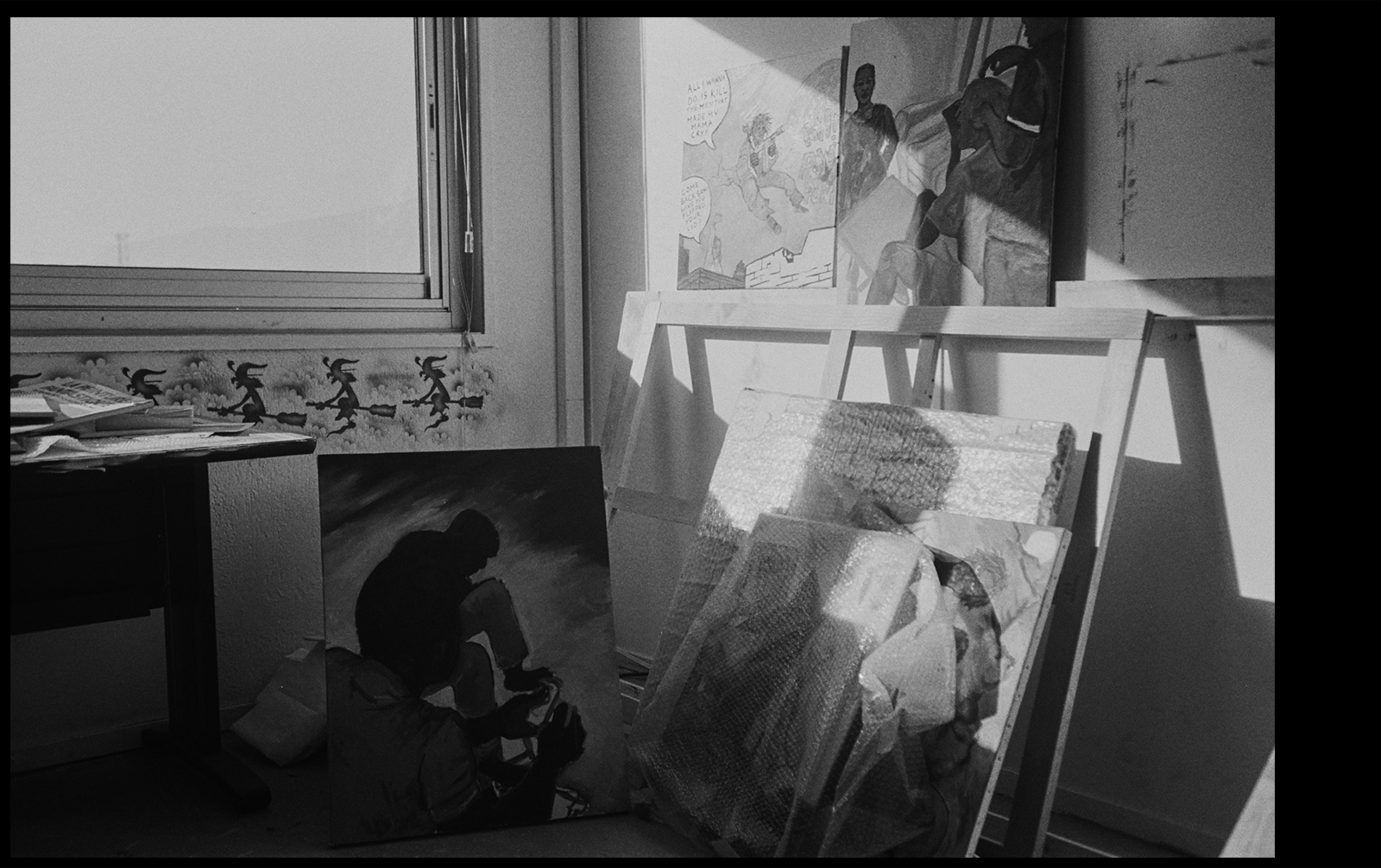 Knowing what you've learned over the years, is there anything you would differently?
To eat healthier, and to spend more time with the people I love.
First 5 inspirations that come to your mind?
1- The novel "Ils sont votre épouvante et vous êtes leur crainte" by Thierry Joncquet,
2- "Attack on Titans/Shingeki No Kyojin" manga by Hajime Isayama,
3- "Berserk" manga by Kentaro Miura,
4- "La fierté des nôtres" album by Rohff,
5- "The brother from Another Planet" 1984, film by John Sayles.
Could you talk a bit about the playlist you created?
Through this playlist I tried to introduce myself and invite the people discovering me to enter my universe. I develop many of my paintings while listening to these songs, these are my most effective leitmotif hymns. In a certain way I also wanted to pay tribute to the struggle.
Listen To Ibrahim Meïté Sikely